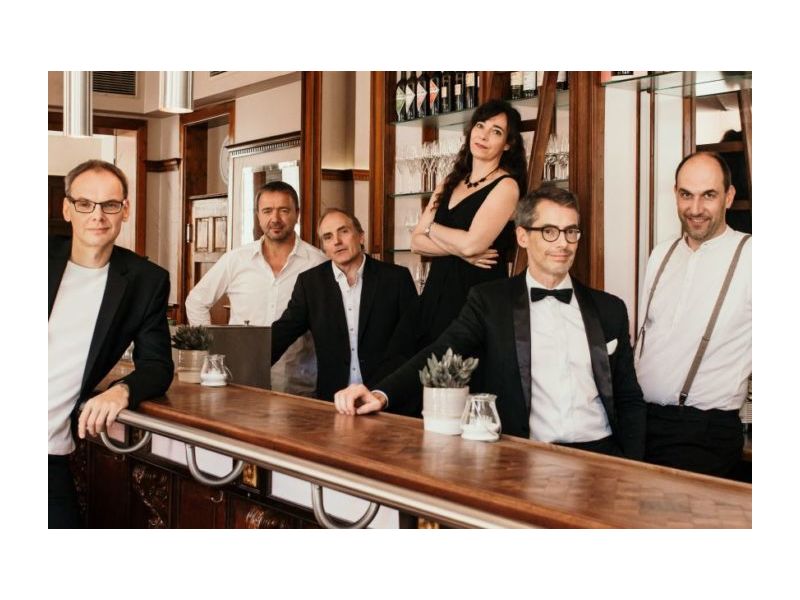 Information
Vocal - Jazz
"Ein Leben ohne Jazz ist denkbar, aber nicht sinnvoll – findet Oliver Gies, Kopf der A-cappella-Combo "Maybebop". Um seiner heimlichen Leidenschaft zu frönen, hat er eine Gruppe fantastischer Musiker um sich versammelt. Drei Stimmen treffen auf drei Instrumentalisten. Trio + Trio. Vocality.
Claudia Burghard, Hannovers Improvisations-Koryphäe und Leiterin des mit Preisen überhäuften Hochschul-Jazzchors "Vivid Voices", ist die samtweiche Oberstimme eines Gesangstrios, das Oliver Gies und Ex-Maybebopper Nils Ole Peters komplettieren. Begleitet werden die drei vom weitgereisten Klavier-Zauberer Markus Horn, dem Allround-Bassisten Lars Hansen und dem langjährigen Wahl-Chilenen Dieter "Zipper" Schmigelok an den Drums.
Oliver und Pianist Markus schreiben die Arrangements für Vocality. Anknüpfend an legendäre Vocal-Jazz-Gruppen wie "Lambert, Hendricks & Ross", "Manhattan Transfer" oder "New York Voices" entwickeln sie deren Stile weiter und schaffen dadurch einzigartige Kunstwerke: raffiniert und überraschend – und dabei doch immer groovig und leicht zugänglich. Auf dem Programm stehen originell umgesetzte Jazz-Klassiker gleichberechtigt neben bekannten Pop-Hits im Swing- oder Latin-Gewand.
Durch die meisterhaft umgesetzten Vokalsätze auf der einen und dem improvisatorischen Freiraum auf der anderen Seite kommen a-cappella-Fans wie Jazz-Liebhaber gleichermaßen auf ihre Kosten. Das von gegenseitiger Wertschätzung getragene Miteinander des Sechsers berührt, die launigen Moderationen sind entwaffnend frei und die sich übertragende Spielfreude wird ihresgleichen suchen, aber nicht finden. Eine Konzertbesucherin brachte es wunderbar auf den Punkt: "Ich kann mit Jazz ja sonst nicht so viel anfangen, aber was Ihr heute gemacht habt, war echt richtig geil!""
Text: jubez
Show more »
https://jubez.de/#!/event/vocality-trio-trio/
Getting there
Travel information Deutsche Bahn AG
Please enter the point you wish to depart from. You can also include a street address in order to get a more precise result.