Kulturruine Revival Party mit MOZART, DJane MADELEINE LE ROY, DJ EDDY - Drive-in Kulturbühne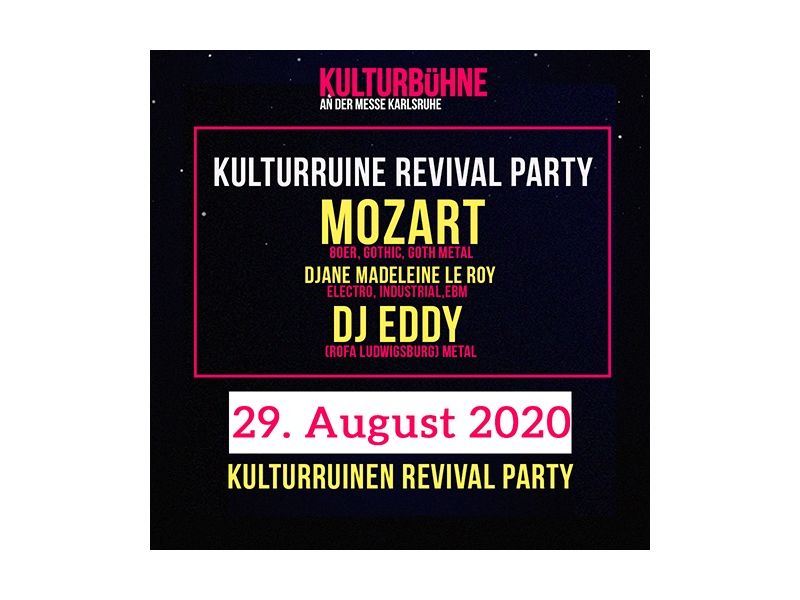 Information
Konzerte und kulturelle Live-Veranstaltungen allgemein sindbesondere, einzigartige und emotionale Momente. Diese Emotionenmöchte die "Drive-In Kulturbühne - an der Messe Karlsruhe" aufdem Parkplatz P3 von Anfang Juni bis Ende August wieder erlebbarmachen – für Publikum und Künstler*innen gleichermaßen.
In einemZusammenschluss von vielen Firmen der Veranstaltungsbranche bündelnsich alle Möglichkeiten, um Kunst, Kultur und Konzerte einen Raum zugeben. Die "Drive-In Kulturbühne" möchte dabei einen Rahmenschaffen, der Veranstaltungen in dieser besonderen Zeit ermöglicht.Das Programm soll sich dabei sowohl aus bekannten Künstler*innen,die zum Teil noch nie zuvor in der Region Karlsruhe zu erleben waren,als auch aus Formaten lokaler Kulturschaffender zusammensetzen.
Am 29. August begrüßen wir den Master of Sound MOZART (80er, Gothic, Goth Metal), DJane MADELEINENE LE ROY (Electro, Industrial,EBM) und die DJ Legende der Rockfabrik Ludwigsburg DJ EDDY (Metal).
Show more »
http://drive-in-kulturbuehne.de/
info@drive-in-kulturbuehne.de
Getting there
Travel information Deutsche Bahn AG
Please enter the point you wish to depart from. You can also include a street address in order to get a more precise result.